iPhone Developers Conference
Are you knee deep in iOS programming? Perhaps looking to get your feet wet? If so, the generous folks at the iPhone Developers Conference (happening next month in Philadelphia) sent along a free pass to one of our readers. To enter the drawing send us an email explaining what your favorite game development tool is a why. We will pick one at random, and entries must be sent by the end of day Wednesday, September 8th.
Even if you aren't the winner of the drawing, you can still save $100 off the conference fee by providing priority code PHBLOGS when registering. Register by September 10th (this Friday) and save a total of $300 as this $100 discount can be combined with early bird pricing.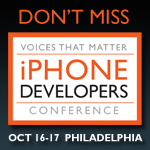 ---
---